Our Philosophy
HH Radio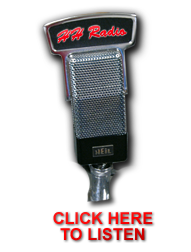 People often ask how we compete with the big box stores. We work hard every day to be everything that the big box isn't. We have a trained knowledgeable staff that is anxious and happy to help customers. You can park right at the store front. If you're in a hurry we'll get you in and out pronto. We'll load your car for you. If you have time to browse, please enjoy a cup of coffee on us, while enjoying music from Sirius Satellite Radio.

Our inventory is nothing like the big box assortments. We carry items that they couldn't even identify. We have thousands of SKU's in our fastener department, and you don't have to buy a package of ten screws when all you need is four-you can buy four. And we'll help you find your item. In our drill bit aisle for instance (yes, we have an entire aisle devoted to drill bits), in addition to all the common drills, you'll find short length drill bits, hole saws down to the 1/16th of an inch, left hand drill bits, spotweld removers, high speed drill bits for metal to the 1/64th of an inch and as large as 1 ½ inches in diameter, so you'll find that bit you need for your tap. We carry metric drill bits, number bits, letter bits, square hole drills for mortising, Forstner type bits, a huge assortment of masonry bits including spline, SDS, and percussion, and even carbide drills for drilling in hardened steel. In total we have over 650 different drills.

What you won't find at our store are things such as outdoor power equipment. We can order these items, but we don't stock them. But we carry just about every small engine spark plug and other repair parts. The same is true for extension ladders, we can get them but don't stock them. So, we are far, far better than the big boxes in the areas that we serve.

Another service our customers love is our special order department. We don't often fail to find even the craziest hardware related items for our customers. We have a vast supply base of specialty hardware and tools. Most items come in overnight and we will take the time needed to understand what it is you need. We don't consider it a pain in the neck to help our customers-what a concept!

WELCOME TO OUR OLD-FASHIONED HARDWARE STORE!